The family is taking a 5 day vacation to Washington, DC at the end of next month, and I've been thinking about renting a bike for a ride on one of the mornings that we are there.
BikeWashington.org has some good information. Their list of the best routes in DC includes the Zoo Review route. It's 20 miles and just 5 blocks from our hotel.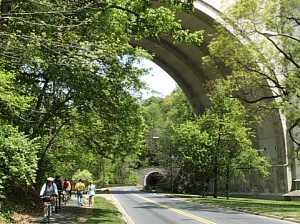 The Visitor's Guide includes a list of bike rental companies. One even offers free delivery.
As soon as we get our itinerary figured out, I'll give them a call to get the details.
Could be fun!